Five Boro New York Pizza Tour
It was a nice warm evening in May, when my friends and I decided we wanted a slice of pizza. We went to Gino's Pizza in Elmhurst and each ordered a plain slice. Fresh out of the oven, we topped it with red pepper flakes, oregano, salt and garlic powder. We all agreed that it was one of the best slices of pizza we've ever had. Sitting there, basking in the greatness of this plain slice, I decided I would dedicate this summer to mainly eating out at classic NYC pizza joints.
Good pizza is hard to come by- everyone has their preference: thin crust or thick crust? Triangle slice or square slice? Balanced cheese to sauce ratio or slightly favoring one over the other? All of these questions should be taken into serious consideration.
For me personally, I like the crust to be just the right amount- not too thin or too thick. It definitely needs to be crispy too, but not too burnt. I have no preference for triangle slice or square slice. I like there to be flavor in the sauce- whether its sweetness or garlic; it cannot be plain. Also, I don't like too much cheese, or have cheese be so hot that the slice becomes too sloppy to enjoy.
To formulate a list of spots to try, I resorted to my Facebook friends, as well as recommendations according to Bon Appétit's Best New York Slice video. My list consisted of this: Rosa's Pizza in Maspeth, John's Pizzeria in Elmhurst, Dani's House of Pizza in Kew Gardens, New Park Pizza in Ozone Park, Scarr's Pizza in the LES, Rizzo's in Astoria, Krave It in Bayside and Artichoke Pizza.
I'm going to start off the reviews with my least favorite slice and make my way up. Usually, I won't post about not so great experiences because taste is entirely subjective, however, this one particular slice was SO disappointing, I have to let it be known so people don't make the same mistake I did. The place is Rizzo's in Astoria. I went into here thinking I was about to have the best slice of my life, due to a few people recommending it and saying their square slice was the best ever. I hate to say it, but it really wasn't. The crust wasn't crispy at all. The sauce had absolutely no flavor, and the cheese was rather hard but would slide off whenever I took a bite.
Moving forward we have Krave It in Bayside. I've went here a few years back. There is nothing wrong with the pizza there, but it is just not what appeals to me personally. They have CRAZY creations such as Ruben Pizza, Gyro Pizza, Loaded Tater Tot Pizza. If you like to live a little, this place might be for you, but if you like to stick to the classics like myself, then this might not be for you.
Then we have Artichoke Pizza. Ah, let me tell you about my relationship with Artichoke Pizza. About 4 years ago, I discovered Artichoke Pizza on Facebook through an Insider video. The idea of artichoke dip on pizza appealed to me so much, I needed to get my hands on it. When I first had it, I fell in love right then and there. I ate the entire slice with no shame (secretly wanting another) but times have changed. I went a few times after that; once by myself, another on a date, yet it wasn't the same. I don't know if my taste buds have changed, but it didn't impress me like it once did. Don't get me wrong, its delicious, but definitely not a go to place for me. When I think of pizza place's to go to, Artichoke doesn't really come to mind. Its definitely a good spot if you have the munchies as they're opened late and the slice is f*cking gluttonous.
Next up is Johns Pizzeria in Elmhurst. My father grew up in Elmhurst, and my mom in Maspeth. John's Pizzeria was right on Grand Avenue, making it easy for the both of them to get to. Both of them recommended me to try it, as it seemed to be a nostalgic place for the two of them that also had a good plain slice. The slice is good, if you're craving a plain slice and are in the area, definitely stop by. I'm not sure if I would travel out of my way to them just for a plain slice, but nonetheless, its good!
★ ☆ ★ ☆ ★ ☆ ★ ☆ ★ ☆ ★ ☆ ★ ☆ ★ ☆ ★ ☆ ★ ☆ ★ ☆ ★ ☆ ★ ☆ ★ ☆ ★ ☆ ★ ☆ ★ ☆ ★ ☆ ★ ☆ ★ ☆ ★ ☆ ★ ☆ ★ ☆ ★ ☆ ★
And now, the moment we've all been waiting for... my top three pizza joints in all of NYC!
Several people reached out to me recommending to go to Dani's House of Pizza, specifically requesting I get the pesto slice with a cup of their sauce. My brother and I headed over one evening after work. The counter bar where you can sit down casually was pretty crammed, but I believe that is part of the experience. I've never been a ginormous pesto fan. It's not that I hated it, but I never had a pesto that I absolutely loved. However, this slice changed everything. The slice was thin, and super duper oily, but that was forgivable since pesto is oil based. The combination of flavors between the sweet tomato sauce and the garlicky pesto was like an explosion of joy in my mouth. I paired the slice with fruit punch (because I personally stand by the idea that it is the best drink pairing to ANY slice of pizza.)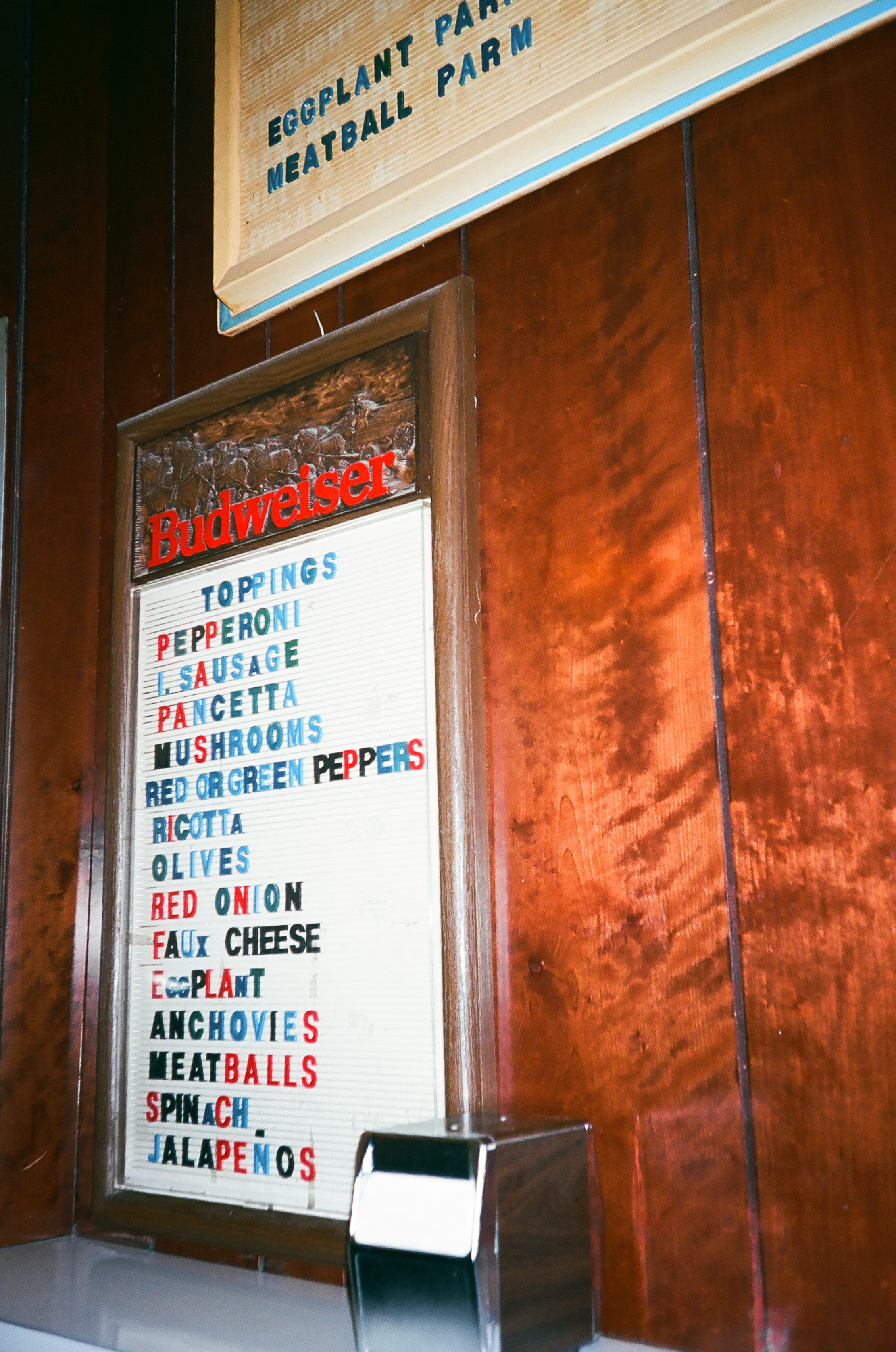 Although this Scarr's is not my number one pizza place, it's a close second. The plain slice here is out of this world! The crust is thin and super crispy. The cheese to sauce ratio is very balanced and it all stays in tact, which is a win in my eyes. I ordered a cup of cherry cola and the combination was superb. Not to mention, I ran into Frank Ocean out front afterwards, making this overall the most euphoric experience of my life.
P.S. Scarr's Pizza accepts both card and cash, so you don't need to worry about that ;-)
Saving the best for last, Rosa's Pizza is the number one pizza place in my heart. All around, there is good variety and options for all the different pizza luvers out there. My personal favorites are their grandma slice, upside down sicilian or house slice (ravioli or rigatoni with vodka sauce on a slice of pizza). Their plain slice ain't too shabby but personally I think Scarr's pizza is better in that department. As usual, I order a fountain fruit punch because again, I believe that fruit punch really complements the slice. Something to note is that Rosa's is cash only, so make sure you hit up your bank before heading over.
There are still SO many places I have to try: Patsy's in Harlem, Totonno's in Brooklyn, Prince St. Pizza in Soho (if I ever decide to eat meat again), the list is endless. But if there is one thing I've taken away from this is this: let it be known that New York pizza is the best pizza.