A Lil Guide to the Best Queens Spots to Eat
I would argue that Queens has the best food in New York City. I remember watching a Sh*t New Yorkers Say video way back when that was the viral Youtube trend, and the actors saying that New Yorkers h a t e d Queens. I didn't really get it, and frankly, I still don't. I love Queens a lot, like, a lot a lot. Among many of its great qualities, above all stands the delicious range of food it offers; you can get authentic Taiwanese food in Elmhurst, to bomb Colombian food in Jackson Heights. All of which are offered at an affordable price.
All the spots I listed below I hold dear to my heart- I've been a loyal customer to each and every single one of them for years now. In fact, my entire family is! Some of these are known across the board as being great eats, but there are a few that are what you would call "hidden gems" (aka JoJu!!!!)
JoJu is a modern Vietnamese sandwich spot, that utilizes the basis of traditional bánh mì (French baguette, sour pickled daikon and carrot, crisp cilantro) and fusing it with non-traditional ingredients such as sriracha mayo, and jalapeños, and meets like beef bulgogi or pork belly. If you're vegetarian, you can get an off-the-menu 'Garden' which is just the vegetables with any sauce(s) or add-ons you choose, the off-the-menu vegetarian beef bulgogi, or you can get the 'Vegetarian Ham', which is slices of mock ham made from tofu. They also have delicious sides and drinks like JoJu bánh mì fries which are fries topped with pork house sauce, mild spicy mayo, spicy green sauce, pickled daikon & carrots, and chopped cilantro & jalapeños- which is my personal fave- or they have JoJu mojito which is a refreshing non-alcoholic sparkling drink with fresh leaves and lemon slices. There are many great things about JoJu; 1. They have a pretty expansive menu, with a few vegetarian items; 2. If you have any allergies or preferences, JoJu is extremely accommodating to adjusting their menu to fit your needs; and 3. Their prices are extremely affordable. Everything is delicious, no matter what you get, each item is filled with flavor. Right in the heart of Broadway, Queens, get yourself some JoJu!
This traditional ice cream shop is a Queens classic. I remember going here when I was younger, whether with friends or my family, it always felt like a treat. From the nostalgic decor, to the delicious homemade ice cream- you can't go wrong! What I like to do when I come here is sit at the counter, and order a coffee ice cream with caramel sauce. Their coffee ice cream is probably the best coffee ice cream I've ever put in my mouth. The way the ice cream is served can be a little messy, but thats the point. Right?
PLUS I met Action Bronson here once when he was filming an episode of Munchies… I mean c'mon!
The Lemon Ice King of Corona
Yet again, another classic! Even my parents came here when they were younger. Easily accessible by bus, and a lil bit of a hike by train, The Lemon Ice King of Corona is a place you absolutely need to hit up. Everyone will think you're cool. Have someone take a pic of you eating an ice on a hot summers day, in a tube top, hoops in with that sweat glow, and you're set with the best Instagram pic of the summer! I recommend sticking with the classic flavors- like lemon (duh) or even rainbow. Regardless of what you get, you'll be cooled off on a hot summers day.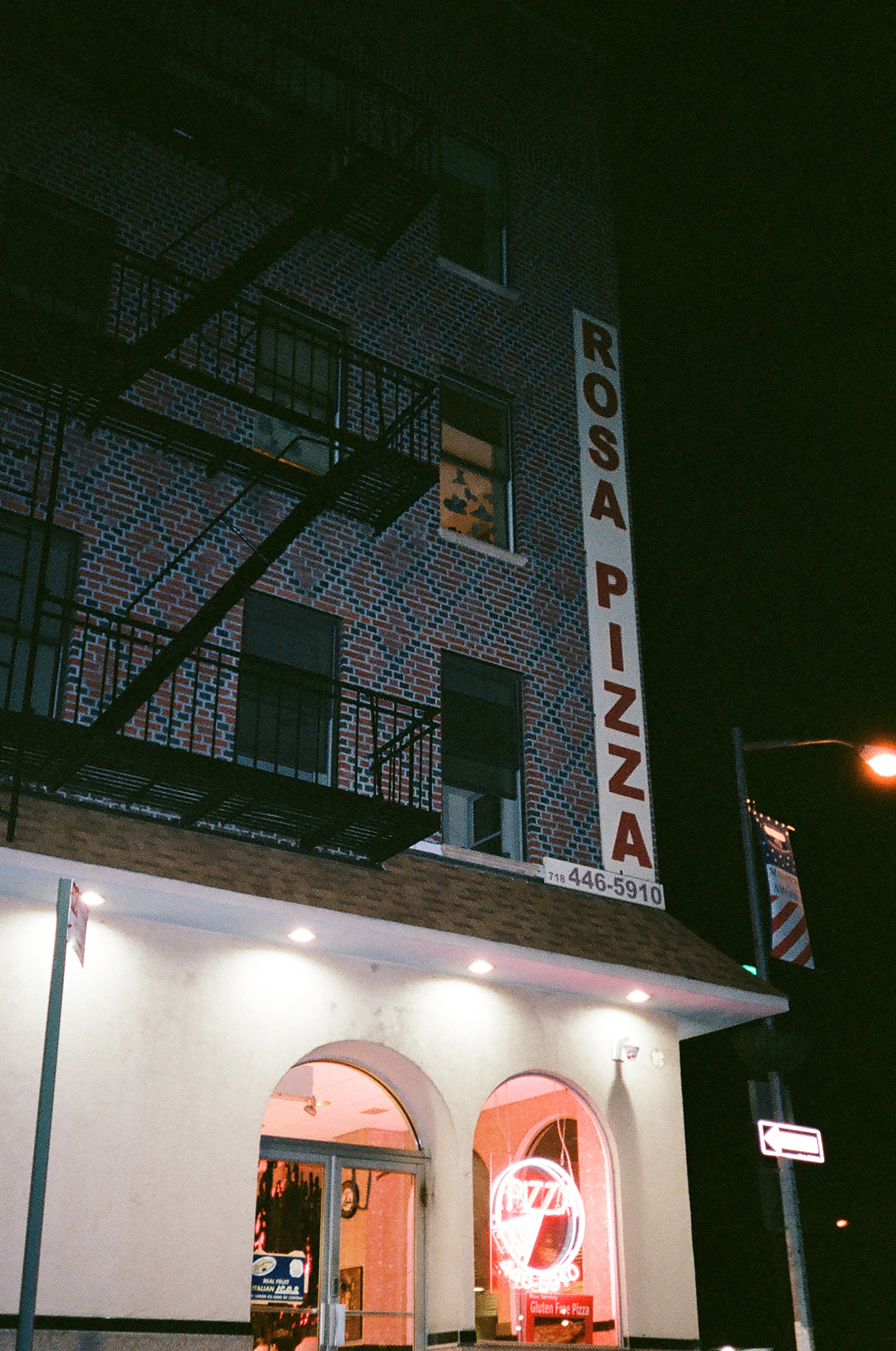 I've mentioned Rosa's before in my Five Boro New York Pizza Tour. Rosa's really is the best pizza I've ever had- everyone whose had Rosa's can agree. There is such a wide range of delicious slices- the pasta slice (your choice of ravioli OR penne in vodka sauce), the grandma slice, the upside-down Sicilian slice, the chicken caesar slice!!! The list goes on and on and on of deliciousness. If you love pizza- both classic and innovative flavors, please make your way into Maspeth for the best New York slice.
This is a spot I would eat at EVERY-DAY after class in high school. My friends and I would walk over to Steinway and order two to three empanadas each, and dowse them in pink sauce! It is so filling, and so inexpensive, perfect for many occasions- including a very tasty late night snack. My personal favorite is the standard cheese, BUT when I was vegan I tried their rice & beans empanada and it is SO amazing, it might even beat the cheese for me… (Photo by my dear friend Alessandro Romero)
What're some of your favorite Queens gems? Let me know in the comments below :-)